SUSTAINABILITY
Interview
"Ligaretta" – An upcycling brand from Marunouchi
Linking the story of Marunouchi while reducing waste and recirculating materials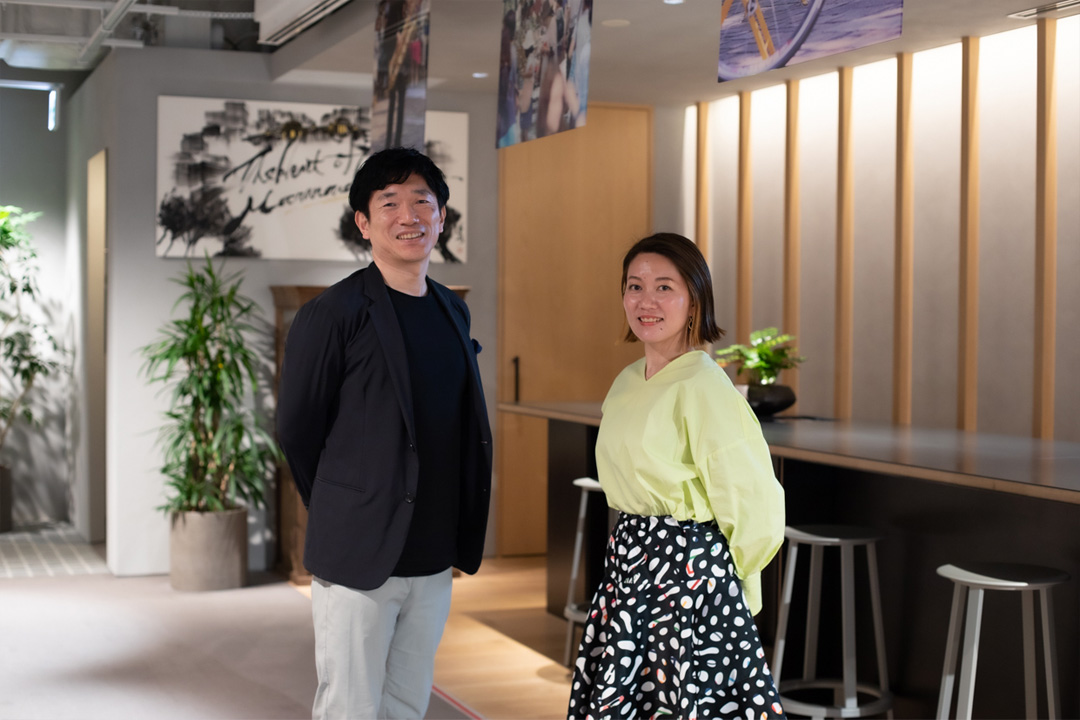 Noriyuki Otani (left photo)
Executive Officer,
OMY Area Management Association (Ligare)
Haruna Hasegawa (right photo)
Project Manager,
OMY Area Management Association (Ligare)
OMY*1 Area Management Association (known as "Ligare") is engaged in various activities themed on creating vibrancy, improving the environment, and building community while using local resources in the Marunouchi area. It also runs the office of DMO TOKYO Marunouchi, an organization working to attract urban area-wide MICE*2 to the Marunouchi area.
To commemorate 20 years since opening in 2002, Ligare launched "Ligaretta", an upcycling brand which remakes used banners and other street advertisements in Marunouchi area into consumer goods to circulate back to the area. We interviewed with key players about this unique project that are also linked with MICE.
※1
Otemachi, Marunouchi, and Yurakucho
※2
MICE - Meetings, Incentives, Conferences and Exhibitions/Events
It all began from the connections with the people of Marunouchi
━━━
Could you tell us why you started Ligaretta, its goals, and the background concept?
Hasegawa
It actually began with casual chatting in the office. The banners*3 hung along Marunouchi-Nakadori Street and other street advertisements in the Marunouchi area have excellent designs that perfectly match the streetscape and have passed screening based on aesthetic rules for the streets. The suede, mesh, and other materials used for the banners have a six- to ten-year life but are all destined to become waste after being taken down. One day, I was chatting with my coworkers, and we started talking about the effective reuse of those great designs and materials, and that was how our regenerative project started.

When we discussed our thoughts and ideas with different people, we were given the opportunity to meet with some designers. They shared our feelings about it and proposed the way of remaking the used banners into products, which perfectly matched with our envision. After revisions and many discussions about the details, we eventually created items like pouches and neck straps as test products. In fact, the skirt I am wearing today is also our sample-upcycled product. I love this because I feel a bond with it and can wear it so many ways.
※3
Ligare handles the process for displaying banners and other area management advertisements in the Marunouchi area.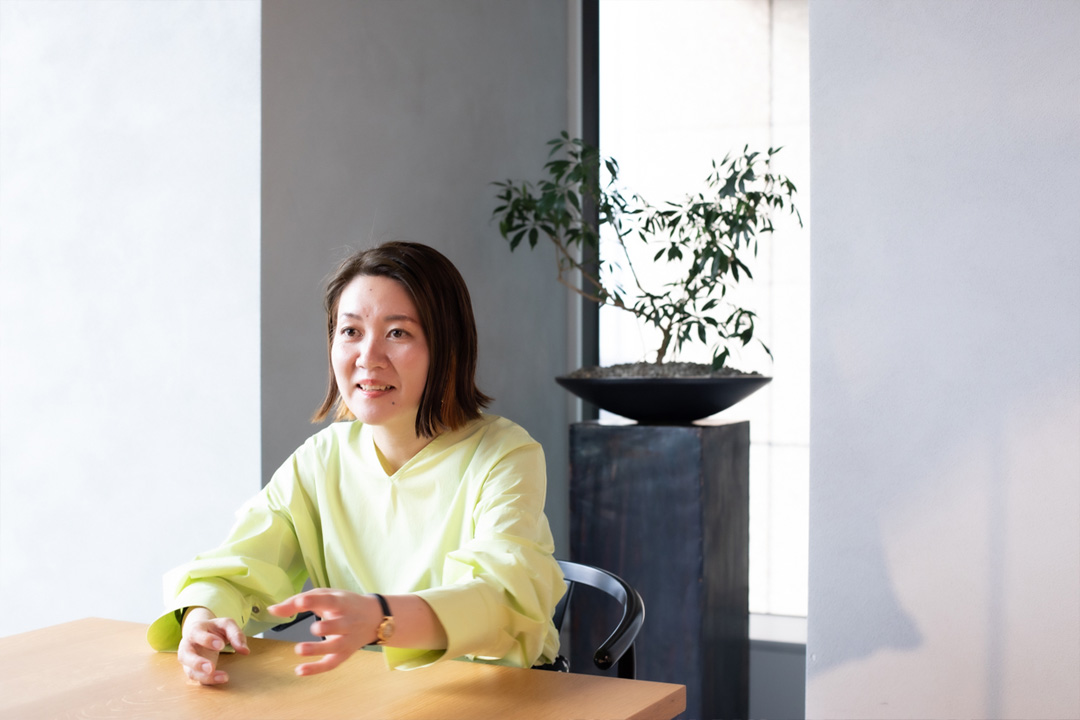 Otani
We gave them out as novelty items for events in the Marunouchi area and sold products for a limited trial period, gradually increasing their users in the area. People liked them and agreed with our activities, and the number of people cooperating with the initiative continued to grow. We are grateful with our plan working, which sparked an even greater desire for more people to learn about and use the products. With help from others, we were finally able to launch the brand in an organic way.
Hasegawa
Ligaretta is an upcycling*4 brand from Marunouchi created through the connections with the people of this area. As for the origin of the name, we started with the idea of wanting to turn Ligare into the brand name. We then chose "Ligaretta" based on the image of women enjoying a new lifestyle in Marunouchi or women leisurely enjoying the town in upcycled clothing. People would instantly connect Ligaretta as being from Ligare, and it sounds and feels cute in a way that is easy to remember.
With the goal of cutting down waste and recycling materials, Ligaretta aims to remake banners hung in the area, materials used for events, and other materials that have served their purpose into clothes and accessories to be circulated back into the local area anew for the benefit of businesses, society, and the environment. We view Marunouchi area materials that are normally discarded as being infused with the area's story. In addition to reducing waste, linking the Marunouchi story is another important concept for us.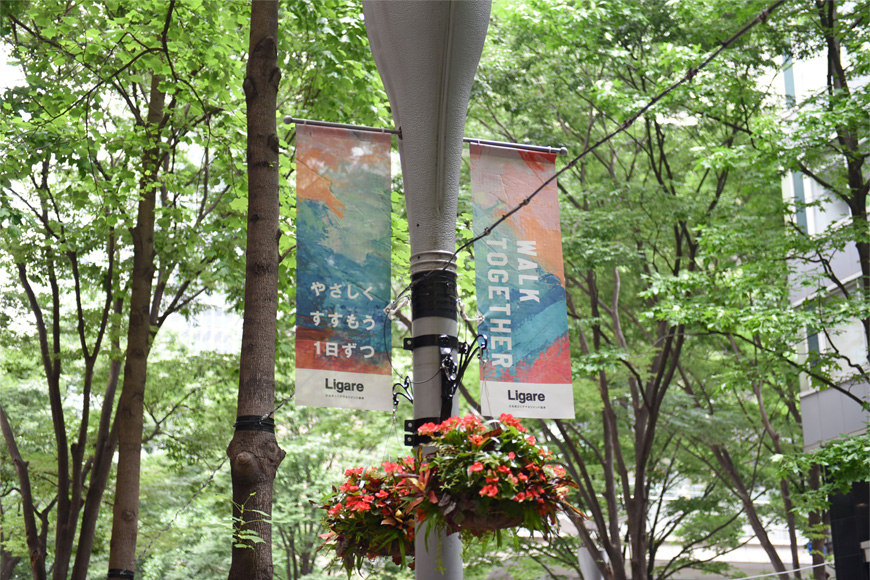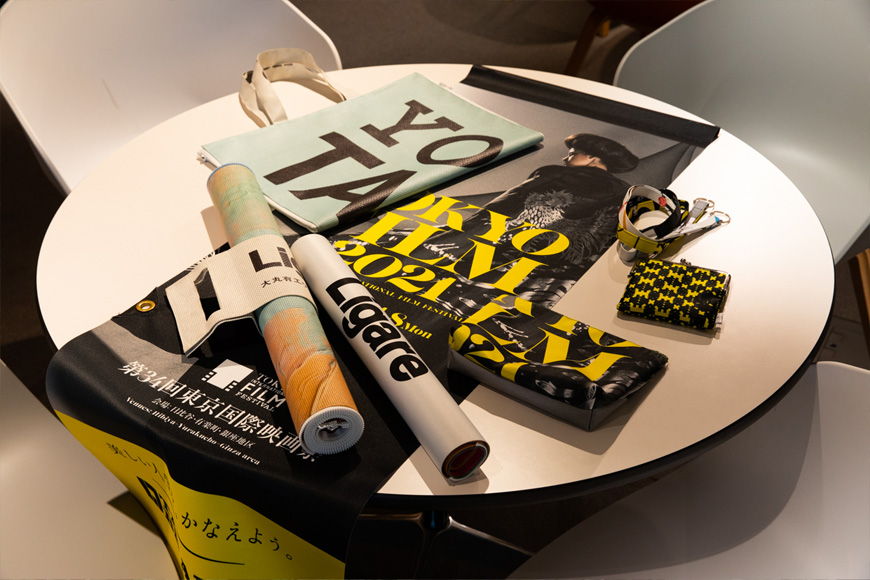 Otani
It happens that we were laying out our concrete plans for launching the brand in 2022 just as Ligare celebrated its 20th anniversary. Ligaretta embodies the value of passing on the good old things that Ligare cherishes in community development in the area. As one new initiative linked to the next 20 years of prosperous community development, Ligaretta will be disseminated from Marunouchi area.
※4
Remaking waste materials into new products, etc. based on new designs and ideas to give added value.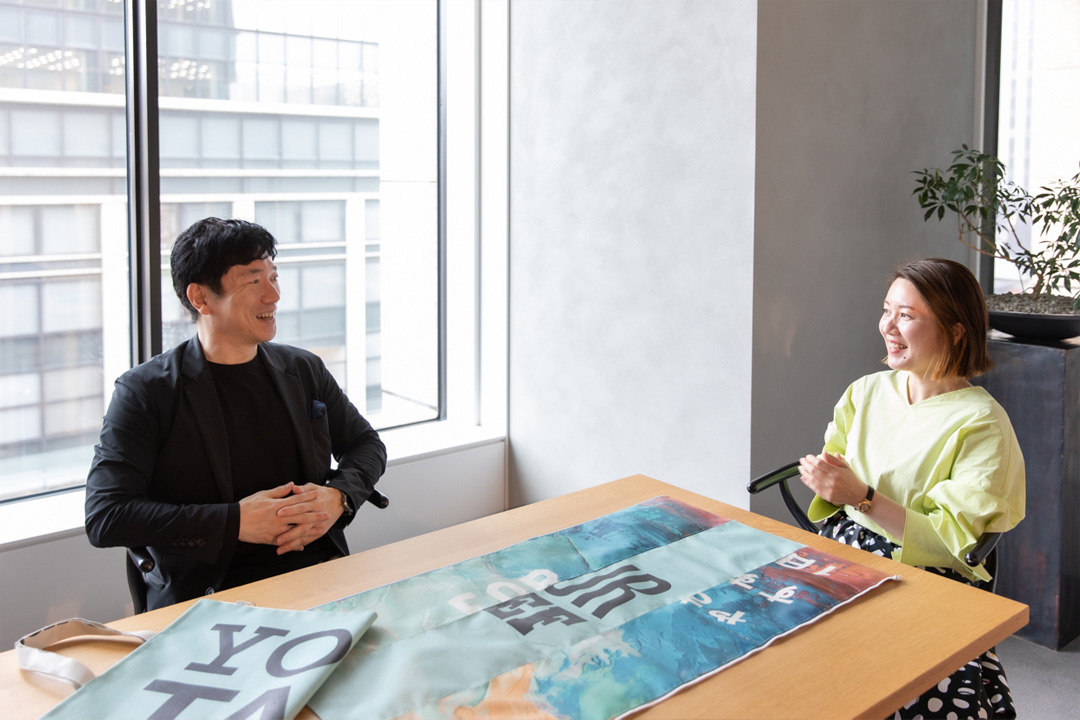 Fusion with creators to enhance Ligaretta's appeal
━━━
You have been strengthening unique ties with partner companies and others in the area since before launching Ligaretta.
Otani
The designers that I was talking about earlier are engaged in sustainable manufacturing centered around the design and art spheres while running a design company called Paper Parade. Their colleagues, including fashion directors, also joined the team, and together we created the world view of Ligaretta like the brand name, logo, and brand story. Aoi Yamada who is active in many roles, including dancer and actor, gladly accepted our request to be the model for our concept video. Noboru Tomizawa, a renowned professional hair and makeup artist took on visual production.

This experience taught me how cooperation between professionals with a variety of creative talents and businesspeople like us and the skillful fusion of our unique assets allows us to perfect plans and products, creating an even better outcome. I felt the brilliance of the power those artists and creators possessed and was very inspired. It also provides the strength to embody the story behind the brand and draw people in.
Hasegawa
There are several processes clothing and accessories go through before becoming finished products. Banners were exposed to the elements outside, and the process begins with cleaning them. It is through the help of cleaning companies, Paper Parade, Kiryu artisans who hand sew each piece, and other professionals on the production side that this endeavor was able to take shape.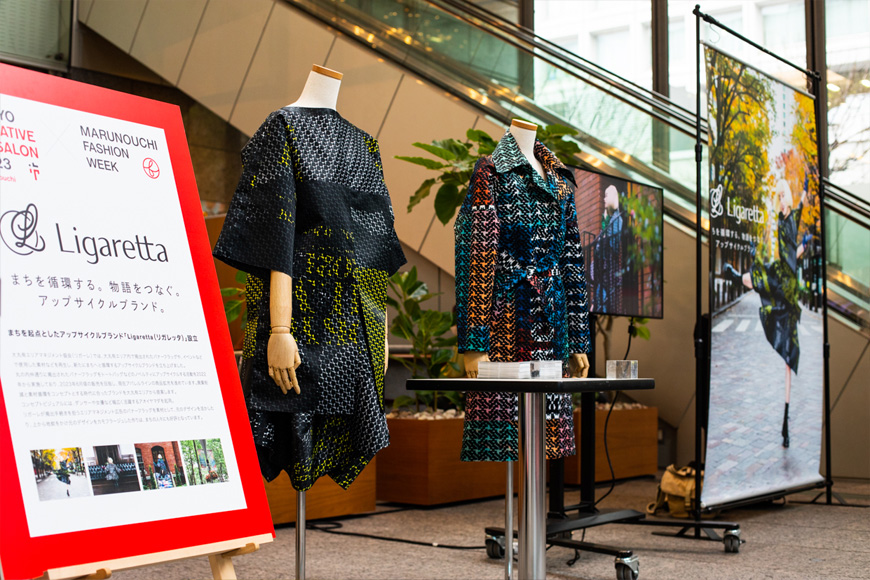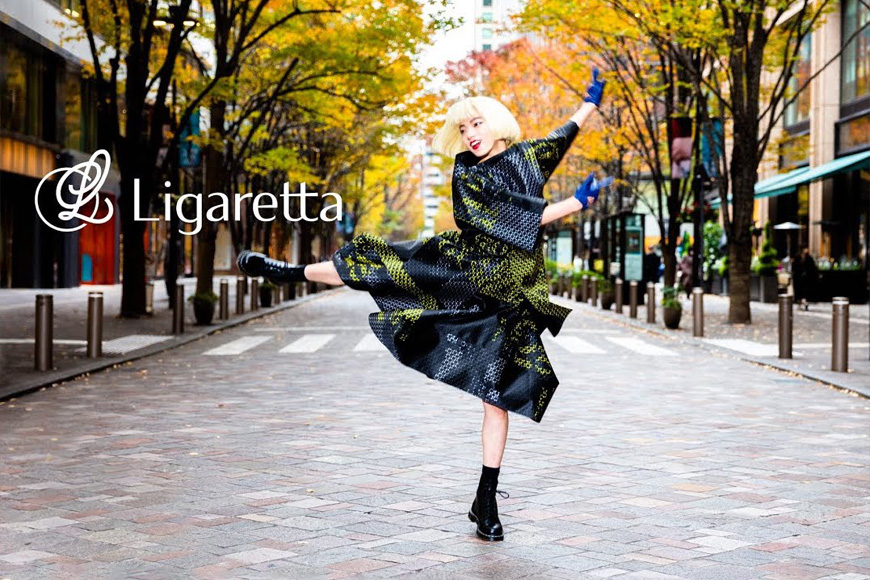 ━━━
Did you face any difficulties or use any special ideas when launching the brand?
Hasegawa
One challenge was collecting the materials. Banners are advertising media, and we first needed permission from client businesses to use those materials. Once they agreed, there was one more hurdle to clear before we would upcycle the materials. The designs on banners are intellectual property and using them as is would create problems with designer rights. To fix this, we covered the surface of the banners used in Ligaretta products with a black pattern called a 'secret pattern'. This camouflaged and obscured the original design, protecting intellectual property rights.
Otani
Despite this being the first time for Ligare, a community development organization, to create its own brand, we did not face any huge barriers we could not find solutions for in creating the business. This was because all the organization members who participated in the project had prior experience launching new business. We could handle matters like filing legal paperwork and creating a solid earnings and expenditure plan using the professional expertise of the different members.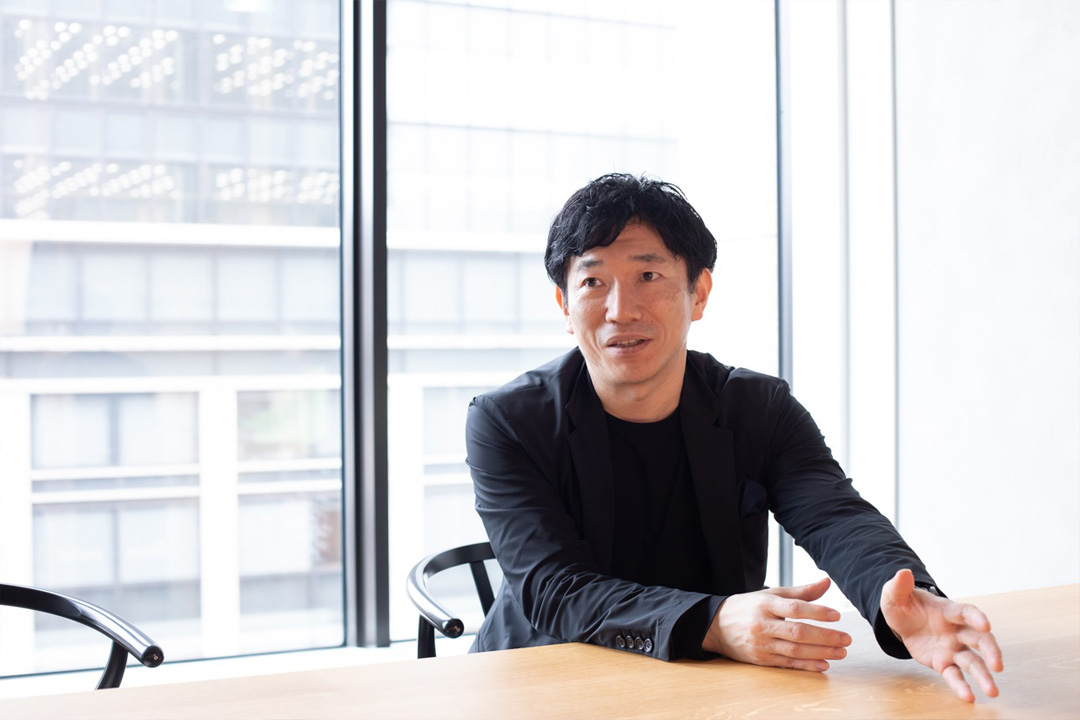 Full-scale launch of product marketing this summer
━━━
Ligaretta opened a booth at Sustainable Brands 2023 TOKYO-Marunouchi held in February 2023. How was the response from visitors?
Hasegawa
To show the upcycling process, we displayed Ligaretta clothing like tops, skirts, and coats and accessories like tote bags and pouches alongside the actual banners. During the event period, we received valuable feedback we can use in future product development from customers of various ages and affiliations.

What I remember the most was a man who spoke in passionate detail, saying, "I would love a collarless jacket or shirt I could slip on when standing in front of a crowd." Others asked if we could sell the actual materials or said they would love it as fabric to use as curtains or other interior décor items. These comments showed me that there was a demand for things I had not even thought of, and they were extremely useful.
━━━
And the following March, you opened a booth at Tokyo Creative Salon 2023, one of Japan's largest fashion and design fairs held simultaneously in six areas of Tokyo including Marunouchi and Yurakucho.
Otani
In fact, through our connections with people in Marunouchi, it was possible to open our booth at this event. A person from an affiliated company who worked with us at Ligaretta suggested the event organizer that Ligaretta is a fantastic initiative and would be great to introduce there. It was a valuable opportunity to expose the brand to younger people who are not familiar with the Marunouchi area, and we were so grateful.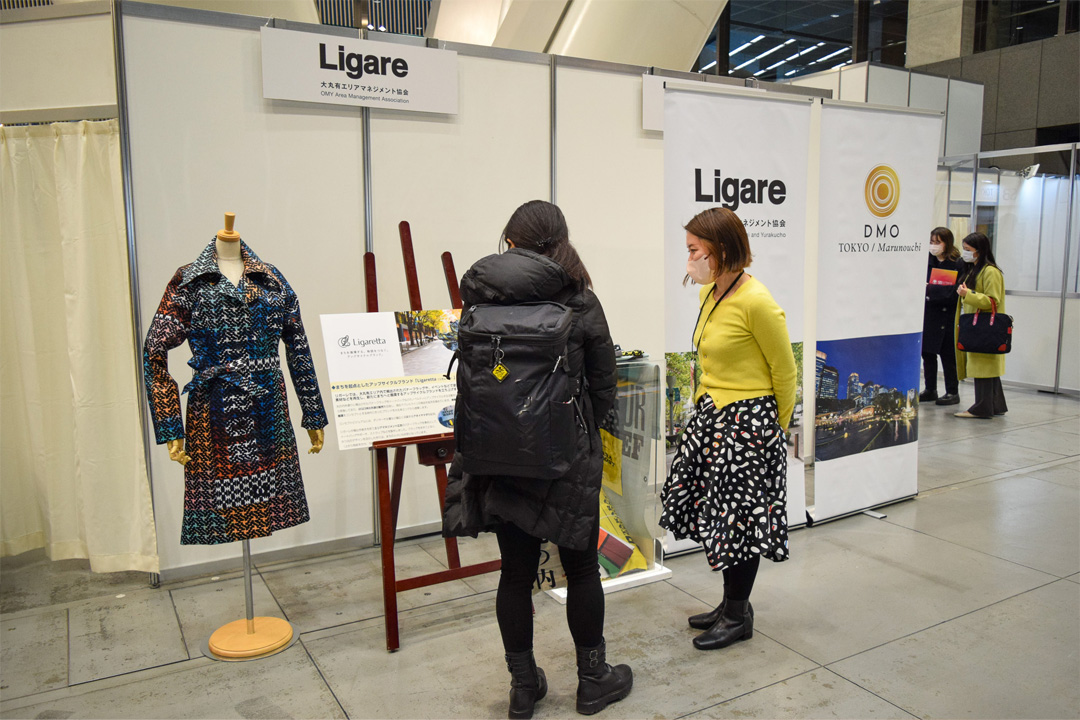 ━━━
I understand that you will launch full-scale marketing of Ligaretta products this year.
Otani
So far, we have been upcycling to create novelty products like tote bags. As next step, we would like to expand our line of apparel products and plan to open a Ligaretta pop-up store at the Marunouchi Street Park*5 to be held on Marunouchi-Nakadori Street from late August.
We eventually would like our products to be sold in stores. We are aiming to use some of the racks in several apparel shops in the Marunouchi area for our products. For items like bags, business card cases, and neckties as well as clothing like coats and skirts, we plan on using a made-to-order system. Customers tell us the specifications like the size, each piece would be individually hand sewn by a craftsperson, and then we send the finished product to the customer by mail. We plan on presenting the skirt that Ms. Hasegawa is wearing with some changes in the design for easier wear by more people.
※5
A social experiment being conducted from 2019 by Mitsubishi Estate, Ligare, and the Council for Area Development and Management of Otemachi, Marunouchi, and Yurakucho to test out ideas for using city center plazas and public spaces.
We also would like to bring green products to MICE participants
━━━
Do you have any future projects planned?
Hasegawa
I would like to create an upcycling community that connects the area. What we are aiming for with this initiative is to have customers get a feel for the community development story infused in Ligaretta goods and create a bond with the area. We are engaged in fieldwork and product planning by walking around the area with different types of people like Marunouchi area workers, students, people with disabilities, and creators to discover materials we can use in upcycling.
━━━
By growing Ligaretta, I imagine you can spread the message of Marunouchi as a sustainable area to people inside and outside Japan, adding even more appeal to attract MICE. Lastly, could you tell us about your future vision for Ligaretta and its connection to MICE?
Hasegawa
We are grateful that there has been a huge acceleration in the number of companies and organizations holding MICE in the Marunouchi area hanging banners during the event period alongside use of the venues. We have been receiving more comments from organizers saying that they want to upcycle their banners once done using them. I hope this trend will stick. We would like to propose development of products linked to MICE, like neck straps made of MICE banners to hand out to the next fiscal year's visitors as novelty items.
Otani
MICE are business events that use distinctive area facilities as venues to show the appeal of the local area. Naturally, organizers want to create events that are memorable for participants. I think Ligaretta goods that are sustainable and made of local resources can add a special feeling to the events. For participants, they would be lifelong souvenirs that would remind them of the Marunouchi area whenever they see them. I would like to try and skillfully bring Ligaretta goods to MICE participants too.
Hasegawa
We are also striving to create an urban circular economy*6. By designing materials that are easy to reuse or recycle, we can minimize waste and use of new resources. By structuring designs to be easy to repair, we can further extend the materials' life. So, we also would like to work on these stages.
Circular economy is a relatively new concept in Japan, and we are still learning every day, with many mountains to climb. Nevertheless, it is important to implement this concept so that everyone learns about green initiatives, and we will continue moving forward one step at a time.
In the way that Ligaretta was created from our connections with the people of Marunouchi and through cooperation, we hope to continue growing the brand together with all the different people who become involved. Many people find sustainability difficult to approach. We would be thrilled if becoming interested in Ligaretta or picking up the products sparks a sense of ownership, for example encouraging people to think about minimizing waste to the extent that is possible for them.
※6
A circular economy is a concept that is becoming popular as a green and highly sustainable economic system.